A Conversation with Kimberly Krol of Global Traveler
In 2006 Kimberly Krol joined Global Traveler as circulation and public relations executive. After deciding her true passion was on the editorial side of the publishing industry, Kim moved into the role of managing editor in 2011.   In 2014, Kim assisted with the creation and launch of Trazee Travel, in her role as editor in chief.  Kim is also responsible for planning all FXExpress Publications, Inc. yearly events and handling public relations.  Tim recently caught up with Kim to talk about her path to Global Traveler, what the magazine offers its readers and the ideal freelance writer.
First of all, tell us how you got to your current position: what was your path that got you into travel writing and editing?
I graduated with a degree in magazine journalism from Syracuse University in 2006, and always imagined myself ending up in New York City. After graduation I moved home to Bucks County, Pennsylvania and began the exhaustive search for a job. I interviewed for both journalism and PR positions, with mostly large agencies. I never suspected an international travel magazine was based just 25 minutes from my house in Yardley, Pa. I found the listing for a Public Relations and Circulation Executive and interviewed. Working for a small company has afforded me the opportunity to learn about the publishing industry and develop my role to better fit my interests and strengths. It's going on nine years, and I've never looked back. I didn't expect my 20s to be spent traveling the world, but it's been an awesome adventure. ​
What is the Global Traveler reader like and how do you see the magazine serving them?
​The Global Traveler reader is sophisticated and savvy. When I speak with them at various events, their knowledge of the travel industry is truly impressive. I think we offer our readers a look at worldwide destinations from a number of different perspectives, and I think we cover some more different, obscure destinations than your typical, bigger book might. Additionally, we cover lifestyle interests such as golf, spas, chefs, health, etc., which are useful topics to someone constantly on the go.
I've had the pleasure of writing for you and Lisa for many years, so I guess I haven't screwed up too badly. Tell us what the ideal freelancer looks like and how someone proves themselves after getting an assignment. 
I want to know what a freelancer thinks an ideal editor looks like! In my opinion, I appreciate a writer who is communicative, but who also takes an assignment and the provided details and can run with it working independently to completion. It also helps if the writer is easy-going. There are a lot of last-minute changes on our end as well, so someone who can help us in a pinch or roll with the punches is especially appreciated. Obviously, meeting deadlines and turning the assignment in using our preferred format is important, but things happen. As long as someone lets me know ahead of time, we can accommodate. Once we get to know you and vice versa, it really runs like a well-oiled machine and we rely on a solid group of reliable writers.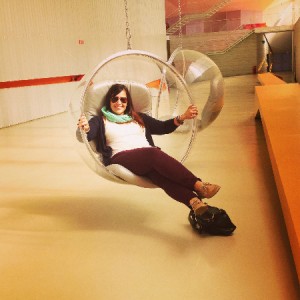 ​Besides being an editor, you also write features and reviews. Are you extra hard on yourself as the editor? Does someone else look over your pieces before publication?
​I do wish sometimes I had more time to devote to the art of writing. I envy how much writing freelancers get to do. I'm not sure I'm always as creative or as clever as I could be, and sometimes I feel rushed through the process. When I do write, everything is edited by several sets of eyes and any work one of us produces goes through the same process as a freelance contribution.
I know you have your whole year's editorial calendar planned out well in advance and writers can't really pitch ideas because of that. How does someone who hasn't written for you already get on your radar for the future? ​
Our calendar is set in advance, so while I enjoy reading some of the pitches I receive, those are not the types of assignments we can accept. However, I do keep them on file and when we are looking at the next calendar year or for someone to cover a destination we haven't previously had interest in, I always return to
those writers who have reached out and see how we can work together. Keep in touch every few months and you will be top of mind when I go back to those queries.
Imagine you can subscribe to three, and only three, print or tablet publications. Besides your own of course, what would you pick? 
I really admire the writing in Vanity Fair, and I can admit I am a sucker for human interest/celebrity news, so I would say People. Some type of news outlet would make the cut; I really like the Skimm news newsletter that is emailed daily. It's a short, but witty look at the major news stories of the day, with links to read more if something interests you.​
Kimberly Krol attended Syracuse University, earning a Bachelor of Science in magazine journalism, and is a die-hard Orange fan. She received her Master's degree in Writing Studies from St. Joseph's University in 2012.   A 2005 study abroad semester in London sparked Kim's love of travel, and since then, she's enjoyed the good fortune to travel to some of the best places in the world. Favorite experiences include hiking the Liwa Desert at sunrise in Abu Dhabi; a waterfall helicopter landing in Kauai; watching the Philadelphia Phillies win the 2008 World Series; floating in the Dead Sea in Israel; and watching the bulls run in Pamplona.