A Conversation with Kristen Gill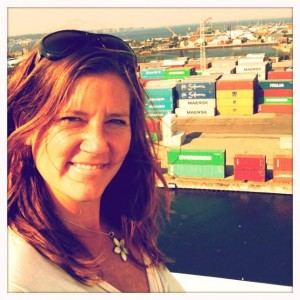 Kristen Gill is an adventure travel writer who believes in diversifying portfolios and creating niche markets in order to be successful. A journalist who has been featured on places like NPR, she recently launched her own company, Kristen Gill Media, which provides storytelling services for businesses. In our interview today, she talks to us about managing various projects, breaking into the business, and what's in store for her next. Enjoy!
Tell us how you got into writing and photography in the first place and what the first publications were that published your pieces. 
I was an English Literature and Humanities double major in college, so was always writing papers. Once out of college, I continued writing, first for a real estate investment company in Chicago, then writing and articles press releases for The Irish American Cultural Institute in New York, some of which were published in the New York Times. When I moved to Seattle, I started doing technical writing for some of the big tech firms like Microsoft, and also started writing for blogs in the early days of blogging.
Photography was always a passion of mine. I took my first photography class in high school using my grandfather's old Pentax. I was one of the only girls in the class. I loved learning about the light room techniques and seeing my photos literally coming to life. After college I studied photojournalism and was lucky enough to do several workshops with Magnum photographer Susan Meiselas, whose (sometimes harsh) critique's really helped me get to the next level.
I met you through the Adventure Travel Trade Association and you've been involved with them on multiple projects. What led to that association originally and why are you drawn to writing about adventure experiences? 
I met Shannon Stowell, President of the Adventure Travel Trade Association, at a dinner promoting the wild and unexplored areas of China. He asked if I was going to attend the Adventure Travel World Summit, which I had never heard of before, and I said, "Next year!" I followed through, and 11 months later I attended the Summit for the first time. I was blown away by the quality of the people I met, the relationships I forged, and I felt like I had truly found "my tribe". These people wanted adventure and a different kind of a life, and weren't afraid to create businesses around doing just that. I knew that these were the people I wanted to work with in the future. In a way, that first Summit truly changed me (I have since been to four more – equally outstanding).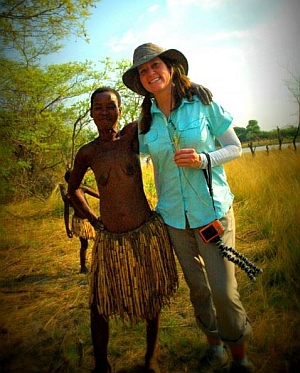 When I came home, I left my boyfriend, threw my stuff into storage, and took off for distant lands (in this case, my first trip to Africa) with no true direction of where my life was headed. I only wanted to follow my passion without worrying what anybody else thought of it, and to see where it would lead me. Back then it felt scary to enter into the unknown. But, now that I have a solid foundation of like-minded friends and colleagues in the industry that I can reach out to for support, I embrace it. Hey, I met you that way! Thank you, ATTA!
Specifically I'm drawn to documenting adventure experiences because it's usually exciting and transformative, and it also combines all of the positive elements of travel, such as enjoying nature and the outdoors, challenging oneself, caring about the environment, and learning about new cultures.  It's the way I like to travel and the way I would want all of my friends and family to see the world. I am a founding member of the "Adventure Angels", and our mission is to inspire others to travel, to push themselves both mentally and physically, to provide support and encouragement, to open their hearts and minds, and to enjoy the heck out of it!
I know from our chats that we both believe in having multiple streams of income going at all times in order to make a decent living financially. Where do your streams come from these days?

These days I write about travel, technology, and business trends at the corporate level, I do occasional grant writing for non-profit organizations, I write and edit technical documentation for the tech industry, and have also just recently served as editor on a colleague's upcoming travel book. I sell my photography to newspapers, magazines, and businesses, and even have the odd photography exhibit here and there where I sell my work as fine art.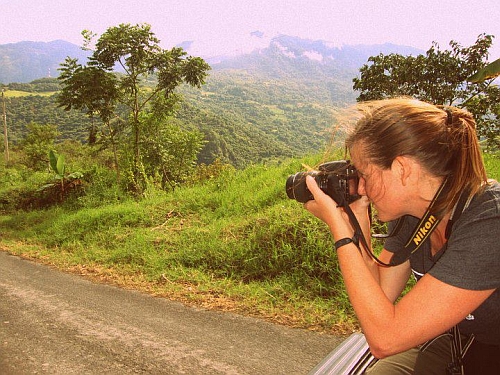 If you were advising a writer just starting out on how to make a real living typing words on a screen or taking photographs for money, what advice would you give?
Just like your investments, you need to diversify! You never know when a certain magazine you contribute to might go belly-up, or when the organization you write for undergoes funding changes and your job no longer exists. Know the value of your writing, find out who is paying (sometimes it can be from unusual sources), understand the market value of what you are providing, and say NO to unpaid work.
Take time to hone your skill. Take a few classes. Write all the time. Photograph regularly, pick up your own style, and learn the difficult task of editing your work. All of these things take a LOT of time, so you'd better love doing it!
You're one of the few people I know who's been featured on NPR, talking about Ireland for The World. How did that come about?
Well, first of all, I love that show, and one day I was listening and they asked about summer plans. I sent them a pitch (my first ever to them), and the following day while I was riding my bike to my local coffee shop, I heard my phone ringing. I pulled over, answered, and had a funny conversation with the editor, bike still between my legs. They were intrigued with my standup paddling (SUP) pitch, and especially SUPing in Ireland. I guess you never know what will pique someone's interest! NPR did a more formal interview a couple days later, and then edited it down quite a bit, but I was pleased with the result. Any time I get to talk about standup paddle boarding and Ireland, I'm happy!
What does the future hold for you? What projects are next on the horizon?
I'm working on more in-depth story projects with several athletes this year, writing and documenting their struggles, triumphs, and defeats. I love water sports, and am excited to be working with some of the best surfers, standup paddlers, kayakers, and swimmers in the world. Some of these stories will take me back to Tahiti, Ireland, Mexico, and El Salvador.
Upcoming explorations for 2015 include Bulgaria, Baja, Malawi, South Africa, Iceland, Mongolia, and possibly Kyrgyzstan. I always like to throw in a few new countries each year, if possible.
I've also just recently launched my new company, Kristen Gill Media, which provides storytelling services for companies. Using film, photography, and the written word, we help businesses tell their story. We recently landed a new client that will keep us busy into 2015.
I'm always on the lookout for strategic partnerships, so if you've got a great storyline or idea where we can collaborate, get in touch!
Kristen Gill is an adventurous lover of life who seeks to explore and share her travel experiences of remote and off-the-beaten-path destinations. She believes in the slow-travel movement, getting to know the locals and their cultures, and believes it to be a life calling. Always on the go, you might find her roaming the mountains of Bulgaria or enjoying a pint of Guinness in the west of Ireland. You can follow her at: http://www.kristengill.com