A Conversation with Nick Wharton
Nick is half of the voice behind the Goats on the Road travel blog (his partner, Dariece, is the other half!). Today, Nick talks to us about going from being travelers to traveling writers and how opportunities like house-sitting have helped them make traveling and blogging a lifestyle.
What took you from being travelers to traveling writers?
I think the transition from being a long-term traveller to a travel writer / blogger is a pretty natural one. During our first big trip back in 2008, we started sending emails back to friends and family that basically documented our trip and we found that after we returned home, we enjoyed reading back on our own stories and reminiscing over the photos. When we left on our second trip in 2010, we opened a travel blog that would basically serve the same purpose, on a more user friendly and easy-to-follow platform. At this point, we still hadn't invested in our own domain and we were simply writing about our story and our ongoing travels on the TravelBlog.org website. It wasn't until we read an article by Johnny Ward of OneStep4ward.com that we realized that travel blogging can actually be a lucrative business if done properly. A few weeks later we bought our own domain: "GoatsOnTheRoad.com" and started writing our story, along with help and information for adventurous, off-the-beaten path travellers.
What was the point when you started to realize you could support yourselves doing this?
At first, supporting our life through blogging was just a dream. It seemed so far out of grasp that we weren't sure that it would ever happen. Along the way, we had a lot of help from bloggers who had already made a living in the business and they really helped us to realize that this could be a sustainable model for continuing our travels. Bloggers like Dave & Deb at ThePlanetD, Nomadic Samuel and Mike Richard at Vagabondish, really mentored us along the way and helped us to understand that "if they can do it, so can we!". We still haven't reached the success that they have with their incredible blogs, but through their help and guidance we've been able to mould our blog into a profitable, life sustaining brand that has allowed us to travel indefinitely for the past few years.
You also do a lot of things on the expense side to keep costs down, like house sitting. How did you get onto the first page of Trusted House Sitters as a caretaker?
You want us to tell all our secrets here? Okay fine! TrustedHouseSitters.com is a great site for finding house sitting jobs and it's search algorithm is based on a few things including:
The length and detail of your profile
The number of photos you have (always max out the allowable amount at 4)
The presence of a video in your profile
A registered police check
The number of references you have
The latter bullet point is the most important. When you open your account, you should contact anyone that you know that you've house sat, pet sat or even baby sat for and send them a reference request through the sites reference request interface. Once you've built up a few references, then you should hunt aggressively for your first sitting job. Contact every home that goes up and try to get a few sits under your belt because if you can land a good reference from a home owner that is a user on TrustedHouseSitters.com, you'll move up drastically in the search results. There it is… our secrets revealed. We currently receive an invitation to house sit nearly every day and we're very grateful that our profile is appealing to home owners and that we've had these opportunities offered to us.
You do some rather long, well-edited videos (including #25 in Guanajuato, where I make a cameo). You don't monetize those though, so what else do you get out of all that time and effort?
Good question Tim. I often ask my self the same thing. When things are going well on my Macbook,
editing videos is kind of a zen space for me. I truly enjoy it and even though it takes a considerable amount of work, it's an easy way for me to dive into my job and really have fun with what I'm doing.
We've created some pretty epic videos on our YouTube Channel in the past and we get a great response from those who do watch them. That is one thing that I get back from creating movies, good feedback and happy viewers. But even though we don't profit directly from the videos, we do often have companies offering us hotel stays, products or tours in exchange for a cool video on our YouTube Channel. The food tour with you in Guanajuato was a great example of our YouTube Channel opening doors for us and allowing us to experience cool activities around the world.
Where does most of your writing and blogging revenue come from and how do you see that changing in the coming years?
When we first started out, we were making about 99% of our income through sponsored posts (shhh! Don't tell Google). As the blog progressed, we started to move away from sponsored articles because search engines penalize some bloggers for publishing them. Today we are more into banner advertising, affiliate marketing and freelance writing. Currently, freelance writing accounts for about 75% or our income and the rest is spread between direct advertising and affiliate sales.
On top of that (although we don't count it as actual revenue), we also save a considerable amount of money on travel through partnering with great companies like HostelsClub.com, The Backpacker Magazine Group and AeroMexico. We've been able to receive accommodation, tours and airfare in exchange for our writing, which brings our costs down significantly as we travel around the world.
In the coming years, we hope to continue making money from freelance work, because we think it's a great way to get our names out there, but we would also like to move towards a more passive income model. We will be selling an ebook in 2015 that will help people to realize that work doesn't have to be a place. The book will show just how easy it is to make money on the road, live abroad and travel forever. We hope that the book (and any others we publish after it) will be good sellers and therefor drip feed our accounts with money, even while we're sleeping. Some people like to work really hard for there money and that's great, but I find it more rewarding to work hard at first, and then continue to make money from it without any further effort. I don't want to work for money, I want money to work for me (excuse the cliche)
Travel + Leisure calls you out of the blue and says they'll send you anywhere in the world to write a feature story. Where would you go and why?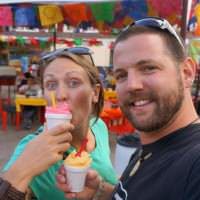 That's a hard one Tim! First of all we'd just be stoked to have been contacted by T&L and if they had a place in mind, we'd hop at the opportunity. But if they gave us the choice, I'd have to say that we'd head to Bhutan! We love to visit off-the-beaten path locations and given Bhutan's current regulations on foreign visitors, the continued promotion of cultural heritage, and the King's focus on "Gross National Happiness", we think it would be one of the planet's most fascinating countries to visit. It can be expensive to travel Bhutan though ($200 – $250 USD for visa and obligatory tour operator bookings), so we'd be happy to have T&L picking up the bill. I can just imagine the amazing photos, videos and experiences that we'd be able to share with our readers from such a captivating country.
—
Nick and Dariece are the couple behind  Goats On The Road and the bi-weekly columns on Credit Walk & Travel Pulse. Their website is designed to show others how to turn their travels into a lifestyle. Masters at making money abroad, they've been on the road since 2008 and have explored some of the least visited places on earth. Follow them on Twitter, Facebook, Google+ and YouTube.