Meet Media Entrepreneur Darley Newman
Darley Newman is a media entrepreneur, 5-time Emmy-nominated TV host and producer, travel influencer and author who has channeled her passions for travel and storytelling into her dream career.  Through her production company, DCN Creative, she is the creator, producer and host of Emmy-award-winning Equitrekking, broadcast on PBS and networks in over 85 countries, and Travels with Darley on PBS, including WYCC PBS Chicago. Her "Travels with Darley" digital shorts are also watched by millions of internet viewers on AOL, MSN and over 2000 partner sites. She joins us this week to share insights into her career.
You're best known now as the host of a travel show on PBS that has run for three seasons. How did that get started in the first place–had you been doing a lot of video already?
I've been hosting and producing the series "Equitrekking" since 2007 and recently also started a second series, "Travels with Darley." I started "Travels with Darley" as video shorts on AOL in 2014 and then on PBS in 2016.
I studied radio and television, along with international business and cultures at the George Washington University, and went on to work on series and documentaries for CBS 48 Hours, PBS' FRONTLINE, The Talk Radio News Service and also wrote for various publications related to my passions for travel and horseback riding.
I had a lot of experience in both radio and television, behind the scenes and in front of the camera before coming up with the idea for "Equitrekking," which was totally unique. The series takes me to remote and often lesser-visited destinations on horseback. The series has stood out in the travel genre, as the concept was and still is totally unique. Equitrekking is broadcast on PBS and networks in over 85 nations.
 "Travels with Darley" takes viewers around the world with locals as the guides to experience great culture, food and adventure. Much like "Equitrekking," I'm always on camera with locals. We're up to 18-half hour and a lot of digital shorts and not slowing down.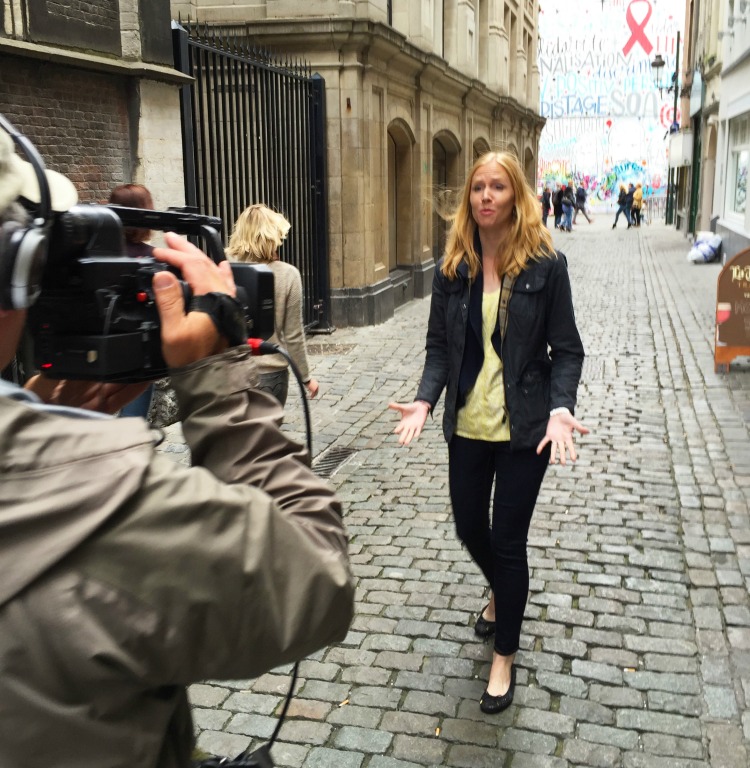 What sets your show apart from the others on PBS and the Travel Channel?
Both "Equitrekking" and "Travels with Darley" are different from other hosted series in that I'm always on camera with locals and having real conversations to really dive deep into the culture. It's these authentic experiences, which really resonate with viewers and travel lovers. 
 How did you get started as a travel writer and what was your first big break?
I started writing scripts for documentaries and then began travel writing for equestrian magazines, covering great places to ride around the world. I then started a website, Equitrekking.com, way back in 2004 as a resource for folks who wanted to ride horses on their travels and started making online videos for the site. We were super early in this field and got cited in Bloomberg Businessweek for our use of technology and creating a "micro-niche" channel. I really felt like I was getting somewhere after creating an episode of "Equitrekking" for PBS in New Mexico and getting great ratings. That episode helped me get distribution for national broadcasts of the series back in 2007.
 How does a host make money from a TV show and how are these deals structured?
It all depends on the network, program and deal. Many people are now creating their own content and hosting it on websites and YouTube, which I think is a good way to start in general, but also start to make revenue from a series. It's how I launched "Travels with Darley," as video shorts. TV hosts normally get paid a flat fee per episode, but deals vary widely.
 What other income sources do you draw from as someone producing content about travel?
I've written a book, "Equitrekking Travel Adventures on Horseback," published by Chronicle Books, write for various magazines and publications, started a travel website and work with a dedicated travel agent on equestrian tours you can book through EquitrekkingTravel.com and beyond. Of course, you can also sell your content to publishers, either magazines in print or digital, sell DVDs, in-flight and beyond. There are lots of ways to be creative and use good content related to travel nowadays, which is exciting, but also means you have to wear a lot of hats and definitely work hard I the process!
Most successful travel bloggers get pitches regularly from TV producers who haven't yet got a buyer for their proposed show. So nothing ever comes of it. What advice would you offer someone who really does want to transition to TV and is a natural at it?
I'd suggest they think about potentially producing their own content and putting it online through various channels, including social networks. If you have a good series and social following and can create regular content, you may find yourself garnering your own audience and following and not even needing another company to guide you. I'd also suggest definitely vetting any companies with whom you'd like to work.
 Which place that you've reported on would you most want to go back to, all expenses paid?
That's a long list, but right now, I'm feeling Hawaii. We filmed on Maui and the Big Island for "Equitrekking" and we actually did take a few days post-filming to just enjoy the islands. I'd love go back again for a vacation and eat sushi, drink banana daiquiris and snorkel with sea turtles. That sounds pretty good!
Darby received the North American Travel Journalist Award two years in a row for Best Travel Broadcast and the Merit Award for Best Travel Book, as well as Inspiring Woman Award from Women in Philanthropy and Leadership. In addition, Darley has hosted and produced for CBS, Scripps Networks Interactive, Encore Starz and appeared as a travel expert on The Today Show, NPR and The Weather Channel. Learn more about Darley on her website http://darleynewman.com/ .