What will future press trips look like?
I asked that question when the pandemic was in full swing, back in the late spring of 2021. As time went on, some of the forecasts were clearly overly optimistic and as I'm updating this in July of August 2022, there still aren't a lot of the trips we used to consider normal in the old days: 12 people in a van bopping from site to site and eating together indoors.
More than a year later, most press trips are individual trips or very small groups. The only non-individual one I've been on since has had only two writers participating.
Eventually this post will look like a historic artifact, but for now it's interesting to look at where we were and compare it to where we are.  The rest of this I'm leaving in its original state from June of 2020.
---
Will there be any fam trips for travel bloggers or freelancers the rest of this year?
A lot of people in the industry don't have answers to these questions and they're still grappling with the ramifications of the meltdown we've had recently, one that's still going on in many locations. Travel was at a standstill for months everywhere and the future is still cloudy on when open international travel can resume.
In light of that, I wanted to see how eager--or not--the travel bloggers and freelance writers who were previously used to roaming the globe would be. When would they be ready to be hosted individually, to go on a group trip, or get on a plane? So I asked them and got more than 160 responses.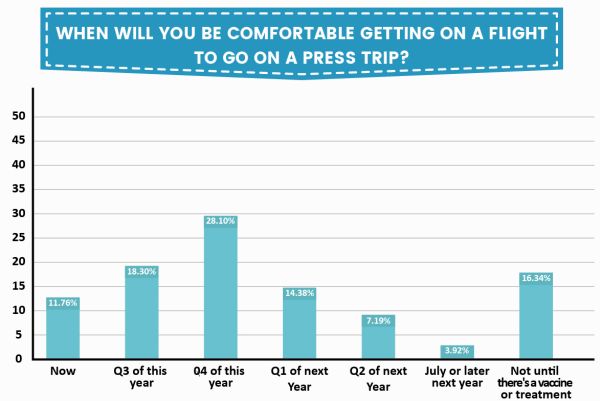 What about the industry though, the people paying the bills? Most destinations get their marketing budget from one of two places: the government or bed taxes from hotels. In both cases, that funding has been decimated during this recession. Governments are needing to divert money to emergency needs such as medical equipment, public health, and extra police hours. At the same time, their revenue is declining since many companies couldn't operate. Some have shut down. Building vacancies are rising fast. Bed taxes are down because very few people have been staying in hotels.
So I polled Destination Marketing Organization people, PR people who set up press trips, and hoteliers who frequently host travel writers and bloggers. In the end, 45 of them shared their thoughts, while others felt a need to pass, saying, "We have no idea yet. It's all still in discussion."
* Note - all survey results are available for download at the end of this post.
The Willingness of Travel Writers to Travel Again
You may inherently expect travel writers to be the first ones to hop on a plane and take off for foreign lands. They would presumably have itchy feet as perpetual travelers and jump on the chance to go on a press trip if it makes sense for their blog or their freelance outlets.
Travel writers are journalists though and most of them are actively researching the facts and health implications. Most know someone who has contracted the virus and been out of commission for a couple of weeks. Maybe they even know someone who has died. So while they are itching to travel, they're also well aware of the risks.
In light of that, there's a big difference in the eagerness to go on an individual trip within driving distance and the willingness to go on a group trip where there's less control over distancing.
The first question was, "When will you feel comfortable going on an individually hosted press trip again within driving distance?"
A quarter of travel writers were ready to go now and another 41% said they would go after July. Only about 1 in 10 would say no until 2021 or pass altogether if there's not a vaccine or treatment in place.
"Bloggers and influencers will likely be the first travelers back and audiences will be watching them more than ever to see how it goes: how safe they feel, what updates or improvements have happened, etc.," said Jade Broadous of Vagabond3.com. "I hope traditional travel marketing is scrapped in favor of this--especially with how easy it is to measure everything digitally."
The answers change quite a bit though when asked about when they would go on a group press trip again, the kind where a crowd of travel writers goes from place to place in a car or van together.
For this option, less than half said they would go anytime in 2020 and only 9% answered "Now." For group trips, the majority would pass until next year at the earliest and 18% answered, "Not until there is a vaccine or treatment."
Health and Safety Fears for Travel Writers
As I found recently, some airlines are not doing much to allay fears about getting into a flying metal tube with seats crammed too close together. Travel bloggers and freelancers aren't much more eager than the general public to trust them to keep us safe. Less than a third felt comfortable getting on an airplane before Q4 of this year. More than 41% would wait until 2021 and 16% said they wouldn't until there is a vaccine or treatment in place for the current deadly threat.
There was a massive difference for paid campaigns as well. While about half said that payment (either directly for a blogger or as a contracted assignment for a freelancer) would make them more likely to accept an invitation, again they were leery about group trips. For the question, "Are you more inclined to take a paid opportunity if it's individually hosted rather than a group trip?" - 87% said yes.
This part is not in the infographic you can download at the bottom, but I asked about what kind of questions they would have for press trip organizers in regards to safety and hygiene in this new environment. Most people picked almost every option, which tells me there is a good bit of uneasiness out there about how the trip will actually play out. Half the respondents will want to know who else is coming, and from where if it's not individual hosting. All the other answers got a response of 60% or more. Writers want to know what sanitation procedures are in place, whether attendees will be tested, and exactly where they are going to have to sit on a flight if there is one.
The New Normal for Press Trips from the Industry Side
Many visitors' bureaus are dealing with cut budgets, smaller staffs, and an environment where local businesses are struggling to survive. One PR agency friend who replied lost her biggest client a few days later after the destination had its entire marketing budget cut by 40%.
Plus there's the difficulty of marketing a destination while a raging virus may not be under control in some areas, a virus that doesn't recognize state boundaries. On the one hand, they need visitors to come back, but on the other hand, they are worried that many of those visitors are going to endanger the locals at a level that's not acceptable. As I write this in June, 19 U.S. states out of 50 are seeing rising hospital admissions from virus patients. Some other countries are also clearly not out of danger yet.
When it comes to the ability and willingness to bring writers back to get the word out, the DMOs, CVBs, and travel brands seem to agree with the writers when it comes to individual hosting versus group trips. A full 80% of them are ready to bring in travel bloggers, freelance writers, or editors on an individual basis this year.
For group trips though, only 20% are willing to start those back up in 2020. Just as many think it'll be an entire year or more before they do that again.
Tony Harrison, who represents Ski Idaho and several other clients, said, "We won't be looking at staging another group media trip until Fall 2022 or in 2023, so hopefully there will be a vaccine available and rapid, reliable testing and contract tracing in place by then."
"Driving distance" is going to be a key factor for both media and the industry, at least for the remainder of the year. Writers are more willing to accept the trip if they can get there in a car and destinations would also rather skip the whole airline part of the equation if possible. It costs more, it's riskier, and it will require a lot more back-and-forth than it used to. (Who in their right mind is going to accept a "basic economy" plane ticket these days and have no control over where they sit?)
The challenge is going to be getting old-school PR people used to interfacing with the print world to understand that where a blogger is physically located often has little to do with who is reading her blog. "The industry has long been confused about blogger address versus blogger reach," says Mariellen Ward of BreatheDreamGo.com. While it matters that Jim Cheney of UncoveringPA lives in Pennsylvania (and every PA destination should be on a first-name basis with him), you can't assume that all the readers of The Travelling Mom are from British Columbia just because the editor Claudia lives in Vancouver. "Regional reach" doesn't apply to 99% of the travel sites on the internet. You're usually better off buying Facebook ads if you want to target readers in one city or state.
There are regional exceptions in that 1% though, blogs set up to cover local events and weekend getaways from a city. It makes twice as much sense now to see if there is a blog focused on your area and to do a full-on courtship with them. I know of major travel blogs serving readers who live in Ottawa, Paris, Pittsburg, Raleigh, Atlanta, Huntsville, Mexico City, and more just in my own personal network. Destination marketing people need to know the people behind these sites well.
Vetting is going to be more stringent going forward for two reasons: budgets and business health. Many print publications have cut back or gone under already and some digital ones like SmarterTravel have laid off their entire staff. Bloggers will need to prove they're still running a viable business and will be around for the long haul. Social media influencers and YouTubers will have to demonstrate that they're still reaching the right audience to align with the destination or brand and that their numbers are legit.
Florida PR pro Georgia Turner says, "Our already insufficient budget will probably be cut by more than $200,000 so I'll really have to be picky about who I bring in now. We will also have to rely more on partners to sponsor."
As Gustavo Rivas-Solis of EnRoute Communications said, "It will be harder to work with freelancers we do not have a relationship with as we will need to be 100% sure of coverage." One PR agency head added, "Clients who never wanted to work with bloggers and influencers are now asking for them because they foresee their content as running sooner and being more of a sure bet than a magazine that may fold before the story comes to light." Another said, "I'm not sure I'd consider hosting a freelancer right now unless they had a story sold already."
Writers may now have even more of a reason to join a professional trade organization. As the co-owner of California's Quiet Creek Inn said, "Professional memberships such as NATJA, SATW, etc. were always an instant approval and will stay in place." Several mentioned that they will be asking for references or referrals. Assignment letters will be required more often for freelancers.
For paid influencer campaigns, some destination and brand people are ready to start back up now, perhaps because they know that provides more control over the messaging and the deliverables in a time when both are more important than ever. Around 1/3 expect to start paid campaigns up again this year, around 45% next year, and only 24% answered "never." Several indicated there will be fewer of them because of budget cuts though, so ROI and good reporting will be more important than ever.
Several destinations and brands indicated that they are going to work more with bloggers and influencers over the coming year and less with traditional journalists that don't have as much control over the output. "I will put more emphasis on influencers that come highly recommended," said Barbara Marrett of the San Juan Islands in Washington State. "I think the line between paid and earned media will get blurrier."
Some Common Ground for Future Press Trips
It was encouraging to see general agreement on how press trips will play out in terms of timing, individual vs. group, and health procedures. Writers want assurance the environment will be safe and the hosts know what they need to do to mitigate risks.
Writers are very leery about group fam trips right now and the hosts aren't in any hurry to get back to those either. Travel writers are much more interested in places they can drive to and the industry is more interested in avoiding flights as well.
Some destinations rely on the fly-in market for a sizable percentage of their tourism though and are taking more of a wait-and-see approach. "I do foresee smaller group trips," said Janine Jervis of Jordan Tourism. After emphasizing that they are looking at every hygiene and safety angle with partners before moving forward, she said, "We don't usually host individual press trips from the North American market, but may need to consider those more so now."
Bloggers with real influence and freelancers with a solid track record want to be paid for their efforts if they're going to leave the house and venture out again. Fortunately, there are receptive places and brands out there who see the value in that. Hopefully the publishing industry will be able to get through this and start commissioning travel stories again too before the end of the year since full-time freelance travel writers have been especially vulnerable during this downturn.
The only area where there is likely to be disagreement is on the trip length. Several DMOs answered that they are looking at doing shorter press trips because of reduced budgets, while the writers seem less willing to travel for something quick. When asked what the ideal length of a press trip is in this new normal, only one in four would choose a trip that's two or three days. Half chose "4 to 6 days" and the remaining quarter would prefer something longer, with more depth.
Time for a New Press Trip Paradigm?
From looking at the data and comments, there may be an opportunity for some new kinds of media partnerships in the future. Here are a few to consider:
1) Cultivate Better Relationships Between Local Travel Writers and the Industry
I've been complaining for a decade and a half now that destinations and travel brands take the writers in their own city or state for granted or outright ignore them. Dana H. Freeman has freelanced for outlets like Thrillist, CNN, and Porthole, but said, "20 years in my small home state of Vermont and my tourism board barely recognizes me." Outreach to local media often stops at the regional print publications, even when a city has 10 famous travel bloggers and a couple of YouTubers within an hour's drive.
I lived in Nashville for six years before I heard from anyone in the tourism bureau there--and only after I called them out on it in public. I never heard from the Tennessee state tourism bureau, even back when there were fewer travel writers or bloggers and I was probably the best-known one in the entire state. Tampa and St. Pete/Clearwater reached out much faster when I moved there because they knew me from conferences, but I only rarely heard from them with invites to things they were flying people in for every month. We would ask the PR people to come to our monthly meet-up of Tampa Bay travel writers, but none ever came and I eventually gave up.
Now that I live in Guanajuato, Mexico, I never hear from the city or state tourism boards. Even after I've met them at a conference and said I lived in their city, crickets. I only work with the private sector if I've taken the initiative myself to contact them--nobody ever reaches out. Only one state in the entire country of Mexico has ever reached out to me directly in the past decade (Baja Sur) and the only hotels that have are the ones with U.S. PR firms.
Now that budgets are so much lower, it's time to do more proactive digging and see who is nearby. The survey results indicate that this is starting to happen in some areas, though a few PR people admitted they're only going back to the well of people they have worked with before. They're not looking to see who else is right under their nose.
The writers need to be proactive as well though. Now's the time to reach out to smaller destinations in driving distance that align with the writer's specialty instead of them trying to get invited to the Maldives or Easter Island.
Several times at TBEX, there have been great joint sessions from destinations and bloggers who have worked together, for Visit Huntsville, Tempe Tourism, and Visit Shreveport-Bossier. Maybe because they haven't had money to fly people in constantly from dozens of locations, they've made better use of the local or regional talent.
If you represent a brand or destination, who could be your partner who is already in driving distance? Reach out to them. Give them passes to attractions. Invite them to events. Work with hotel partners on staycation opportunities and introduce them to local restaurant owners, wineries, or breweries. Put them at the top of the list for paid campaigns with set deliverables. You'll get ongoing coverage without having to give any money to bailed-out airlines.
2) Consider longer media visits that have more depth
While some writers are still willing to do trips that are the equivalent of a holiday weekend, most would rather spend longer there to gather material and take photos/videos. Short trips lead to surface-level articles, while longer ones lead to more depth, better narrative stories, and spin-off articles on multiple subjects.
Sure, a longer stay could potentially cost more, but there are probably dozens of creative solutions to this. Perhaps put a blogger up for a week in a hotel with a kitchen and provide a stipend instead of setting up a bunch of restaurant meals (unless they're a food writer or hotel reviewer). Hand them rental car keys and a city passport that gets them into local attractions and don't worry about holding their hand. Put them in an RV rental for a week with a campground stipend and let them explore the state. There are a lot of options that would be a refreshing alternative to the "12 stops in 2 days" trips that most writers dread.
3) What About a Travel Writer in Residence Program?
Do media trips have to be measured in days? Everyone is already used to holing up in one place for weeks or months because of lockdowns and digital nomads frequently rent an apartment in one place for weeks or more. So why subject them to an artificially short visit when they come to your region?
For close to a decade now, Costa Brava Tourism in Spain has been bringing in bloggers for weeks or even a month and treating them as a "travel writer in residence." Why is this so unusual for nearly everyone else? The reason you read so much about Bali and Thailand is because travel writers are staying there for months--paying their own way because it's so cheap. Offset their expenses and they'd probably come stay with you that long too.
Many travel bloggers can work from anywhere and a good number of them don't even have a home. Make your destination their home and they'll be talking about you every day, regularly mentioning your place on social media and showing it off in an authentic way. They'll keep putting things up for years later because they have so many photos. Imagine how much material could come out of that compared to when a writer parachutes in for a few days and just ticks off a few main attraction boxes.
The amount of money this costs could be quite variable, maybe a few grand and a meals stipend for someone with huge influence, but maybe just the price of a one-bedroom apartment and some activities for others, especially if it's a city where the writer(s) can get around on foot and public transportation. Based on survey responses, this arrangement is only ideal for around 1 in 12 travel writers, but that's still a big pool of potential.
Start having the conversation and see. I bet if you got the word out next week that you were accepting applications for a travel writer in residence program and you outlined the terms clearly, you could get dozens of responses within a week. Instead of a press trip invitation, you send a "come live with us" invitation instead. Float the idea out to hoteliers---many of them are half-empty (or more) right now anyway, right?
4) Spread some money around with writers who have already visited
On some of the campaigns my 360 Degree Travel Network blogger agency has worked on, we have gotten a message out to millions of readers and social followers without anyone getting on a plane, train, or bus. We did this by hiring bloggers who had already been to the destination. Or sometimes we also tapped into the expertise of people who lived in the area. Often these bloggers have plenty of untold stories and experiences to share and they may be sitting on hundreds of unused photos from a past trip.
Whether you use an agency or mine your own database for contacts, you can probably pay bloggers to create new content in a focused way for less than you would spend to bring in someone new. Meanwhile, there's a better chance you can emphasize the angles that are right for the current situation and receive detailed reports on content and social shares. Instead of hoping for the best, there's a clear outline of deliverables.
For some, the new reality might force a fresh look at this value proposition. "Our international hotel clients have adamantly refused to pay 'influencers' for content and they can't even say that word without grimacing. I'm starting to see a couple of them come around already though as we emerge from this period of no room bookings. They're tired of seeing competitors get faster, more consistent coverage by courting the right bloggers and social media stars," said the head of one prominent PR agency.
What is a fam trip in this post-pandemic world and how will the media and travel industry work together? Let me know in the comments and let's see how it all pans out!
Download the full press trips survey results infographics here. (Publication of them allowed with attribution and a link.)
Writers full-resolution version and writers reduced version
Industry full-resolution version and industry reduced version
These infographics were produced by a freelancer at Fiverr. Offload your own project here so you can spend your time on the work that really matters. 
About Author
Tim
Tim is the author of Travel Writing 2.0 as well as several other successful books. His work has been recognized by SATW, NATJA, and the Solas Awards. He has contributed to more than 50 publications as a freelancer and is the editor of five websites and blogs, including the "Best online travel magazine" and the popular Cheapest Destinations Blog, established in 2003.