I first "met" Lavinia Spalding by e-mail when a story from Perceptive Travel online magazine made the cut for an edition of The Best Women's Travel Writing, which she edits and chooses the articles for. We connected in person at a conference eventually and I've roped her into speaking about how to become a better writer for a future TBEX event in North America. For the people who aren't among the 500 or so bloggers who will make it to that eventual event though, here's some insight and advice from a veteran. 
How did you get started as a travel writer? What was it about the act of travel that inspired your work as a writer?
I fell into travel writing by being a writer who traveled. Fresh out of college with a degree in creative writing, I moved to Busan, South Korea to teach ESL. I lived there for six years, traveling at least three or four months of each year. I'd never been exposed to such a bounty of writing material, and I kept journals and wrote constantly—but I was mostly focused on using my experiences as fodder for fiction—short stories, poems, and a novel I plugged away at for about ten years. It finally became clear sometime in my early thirties that even though my education was in fiction and poetry, it was easier to become a working writer by pitching and submitting nonfiction. And it turned out the real-life people I knew in Korea were far more interesting than any fictional characters I could make up.
In terms of travel as a source of inspiration, there's really nothing like it to crack open the creative mind. When we leave home, all the conditions necessary to write hand themselves over in one perfect package: unfamiliar scents and sounds and tastes, new customs and concepts, fascinating characters, surprises and disasters, the endless curiosities of a new place. Add long stretches of free time and a change of location (invaluable writing tools, both) and lastly, throw yourself in the mix — the attentive traveler with fresh eyes. When you put it all together you've got the perfect recipe for storytelling.
The 12th edition of The Best Women's Travel Writing is wrapped up and will be out soon. How have things changed over the years–for yourself or in the entries?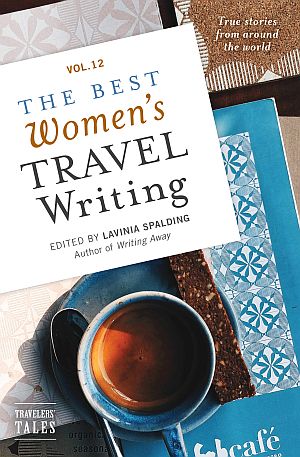 I began editing the series for Travelers' Tales Publishing in 2011, and it seems my whole life has changed since then. I got married, had a child, moved from San Francisco to New Orleans. I'm not the same freewheeling traveler I once was. Though I still travel, leaving home for ​long ​periods of time is more complicated. In the past few years, my international trips have mostly been for work: I've had magazine assignments in Spain and South Korea and taught writing workshops in Nepal and Morocco. But having a child has given me both a greater appreciation for travel and a more compelling reason to return home. It's probably also changed my editorial sensibilities. When I read for the anthology now, I find myself more drawn toward narratives of kindness, courage, tolerance, resilience, hope, and change.
As for the entries themselves, it's mostly the volume of submissions that's changed. When I began editing BWTW, it was coming out annually. Lately we've published a collection every two or three years, which means there are far more submissions to review. For the first volume I edited, I think I received about 300 essays, and I thought that was a lot. For this one, I read 1,300! It's a lot more work, obviously, and much more difficult to select the thirty-some stories I can include–but it also takes me on a really wild reading ride, which is fun.
Thematically, the biggest change I've noticed is an increase in extreme outdoor adventure. More epic accounts of sailing and trekking, fewer dispatches from swank resorts. More essays that leave me feeling awed and inspired by the fierce badassery of my female colleagues.
(For a sampling of who has been featured in this series, see past interviews with Jill Robinson, Maliha Masood, and Kimberley Lovato.)
What advice would you give a blogger (or a freelancer who mostly writes service pieces) who aspires to become the type of writer who wins awards and gets into anthologies? 
Start by understanding that this isn't the sort of writing that makes you money–you have to do it for a love of storytelling. Next, read How to Be a Travel Writer, by Don George. After that, read travel essays and articles in anthologies, magazines, and journals. Traditionally published stories benefit from having been edited extensively–often by a team of professionals whose primary goal is to elevate them–so a great deal can be gleaned from studying these pieces. And don't just read them for pleasure; examine structure, dialogue, description, characterization, transitions, and really ponder the decisions the writer made.
To take your study further, enroll in a writing workshop taught by a pro–someone who regularly publishes the kinds of stories you want to publish. And you can learn a tremendous amount in a very short time from multiple writers and editors by attending the annual Book Passage Travel Writers and Photographers Conference in Corte Madera, California. It has launched many a travel-writing career.
In terms of craft, I think it's important to write for yourself—not with an audience in mind. When you're not worrying about others reading your work, it's easier to take risks and be intensely honest and brave and vulnerable. And that vulnerability—that surrendering and telling yourself the truth—is the gateway to great writing. Then, when you're ready to share it, don't. First, rewrite, rewrite, rewrite. Revision may be the hardest and most important part of writing. To the extent that you should throw your whole self into those big, messy, wild, private first drafts, you must revise with equal energy. And when you've revised all you can, ask a few friends to read it and give you feedback. (Or hire an editor to work with you.)
Mainly, resist pushing "send" or "publish" on your first or second or even fifth draft, no matter how lovely and polished you think it is. You'll be astonished by what you discover when you return to a story after letting it marinate a while. But finally, do finish it and send it out. And when it gets rejected, send it somewhere else. And then somewhere else. Keep sending it out. Perseverance is a must in this industry.
One last thing, which is important: when you're on the road, and you're taking notes, don't think only of your impressions and experiences. Talk to as many locals as possible, and ask good questions. Read up on the place. Do the research and the work so you can actually connect genuinely and honor the place you want to write about.
You also wrote a book about the importance of keeping a journal. It seems fewer travelers are keeping one these days and may not even be able to read their own handwriting anymore! What are we losing when we give up notebooks for thumb typing? 
Much of what's lost is physical, starting of course with the simple pleasure of sitting down with a cup of coffee or a glass of wine and putting pen to paper. Doing so activates a beautiful kinesthetic relationship with words and place. The other physical thing that gets lost is, naturally, the journal itself–the journal as keepsake. To me, this is an enormous loss. I've amassed countless souvenirs over decades of travel, but most precious by far are my handwritten journals–more so even than old passports, because while the passports include neat stamps, the journal has my stamps: my musings, my handwriting, my scribbles and scribble-outs, my pasted-in ticket stubs and receipts, coffee stains, scary and embarrassing thoughts I'd never utter aloud. As I wrote in Writing Away, "The journal is time travel — a complimentary door-to-door shuttle delivering you back to your most fearless and fascinated self, when you were out roaming, eyes wide open, connecting to the world and its people, tracing the journey within the pages of your messy notebook. It's more than a collection of words; it's a personal artifact."
We also lose something less tangible but no less sacred: the interior transformation that accompanies journaling. The act of writing by hand forces a slowing down, and the value of that, especially these days, is inestimable. When we write in our notebooks, losing ourselves in our thoughts, following only that scratch of ink across paper, it can become a meditation of sorts, a practice that brings more intentional, focused attention to the moment. Writing of any kind can be this, of course, but I think with a travel journal, it's especially potent, because our minds have already been opened. It's a conduit to a larger consciousness.
Few authors make a full-time living from books. What makes up the rest of your income streams? 
I've always done other work while writing and editing books. Over the years, I taught ESL, waited tables, and managed a 36-unit apartment building. Now, in addition to writing books, I make my living from freelance writing, teaching, and consulting. But relocating to New Orleans also helped matters—it's much less expensive than the Bay Area.
Now that travel has slowed so much and many publications are in trouble, what are you working on for the rest of this year?
After the anthology comes out in October, I'll still be working on the anthology! That's when the other part kicks in—the promotion. It will look different this time, of course, because of the pandemic. There will be a virtual book launch, zoom readings, online interviews, etc. It's always necessary to do everything possible to support a book after you've brought it into the world.
I'll also return to pitching stories and sending essays to my favorite magazines and journals, many of which are still making a go of it. And I hope to resume work on a memoir proposal I've been trying to finish, and find a home for a children's book I wrote. Meanwhile, my son starts Kindergarten soon—online, because of Covid—and since he attends a French immersion school, and school takes place at home, I guess that means I'll be attending French Kindergarten this year.
Lavinia Spalding is series editor of The Best Women's Travel Writing, author of Writing Away, and co-author of With a Measure of Grace and This Immeasurable Place. She introduced the e-book edition of Edith Wharton's classic travelogue, A Motor-Flight Through France, and her work appears in such publications as AFAR, Longreads, Tin House, Yoga Journal, Sunset, AirBnB magazine, Ms., Post Road, Inkwell, The Bold Italic, Westways, San Francisco magazine, The San Francisco Chronicle, and The Guardian UK, and has been widely anthologized. She teaches writing workshops around the world and is available for speaking engagements, corporate storytelling classes, private editing, consulting, and coaching.
About Author
Tim
Tim is the author of Travel Writing 2.0 as well as several other successful books. His work has been recognized by SATW, NATJA, and the Solas Awards. He has contributed to more than 50 publications as a freelancer and is the editor of five websites and blogs, including the "Best online travel magazine" and the popular Cheapest Destinations Blog, established in 2003.